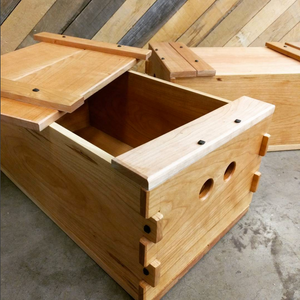 Intro to Japanese Woodworking (Sept 21 - Oct 12)
Sale price Price $481.00 Regular price
*Course fees include the cost of your own high quality tools which you will take home*
Build your own Japanese toolbox by hand. This durable multi-purpose box made from local hardwoods will not only look beautiful - but make a great home for your Japanese tools, which are provided and yours to take home after the course! 

This beginner-friendly course will guide you through the process of creating your own version of an object steeped in over 1400 years of history. Over 5 consecutive weeks, you will go from learning some of the differences between Japanese tools and their Western counterparts, choosing your own local materials and employing traditional techniques to create a completed piece. 

The cost for the course includes a high quality Japanese saw, chisel, and hammer, as well as building and joinery materials. Couples or teams (of 2) max are welcome to work together on the same piece. Prior experience is not necessary for participation in this course.
Course Date 
5 consecutive Thursdays beginning Sept 21st, 6:00 - 9:30pm 
(17.5 hours)
Instructor
Ben Viertelhausen
*Courses are transferable to another person, but non-refundable. Please ensure they work with your schedule.