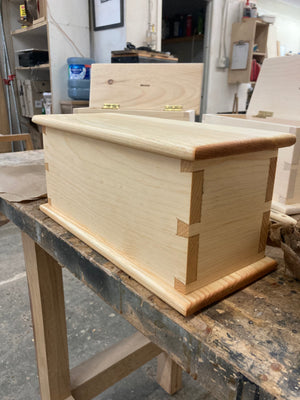 Intro to Dovetails: Shaker Box (September 14 & 15, 6:00 - 9:30PM) with Jason Harvey
Sale price Price $200.00 Regular price
Join us as we learn the basics of the dovetail, a traditional woodworking joint.

In this introductory course you will learn how to create through-dovetail joinery, using hand tools to complete a simple Shaker candle box in cherry. Through hands-on practice, participants will explore tool selection, design, layout, handsaw and chisel techniques, as well as quick fixes to common issues.

Participants will leave with a solid understanding of the dovetail joint, a fundamental woodworking skill. 
Course Date 
Thursday, September 14 (6:00PM - 9:30PM)
Friday, September 15 (6:00PM - 9:30PM)
Instructor 
Jason Harvey

* Courses are transferable to another person, but non-refundable. Please ensure they work with your schedule.